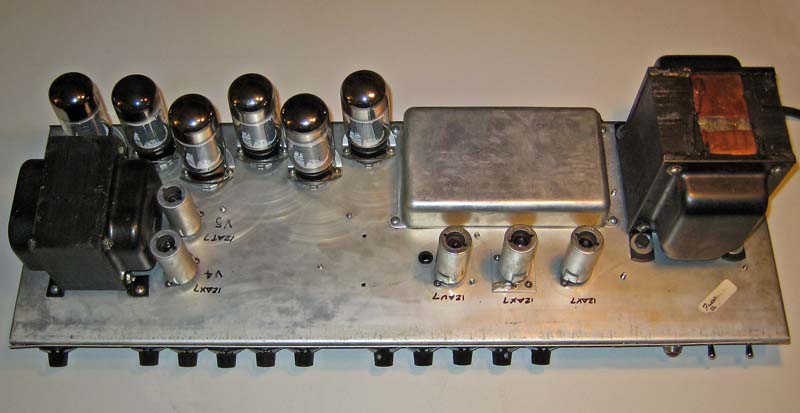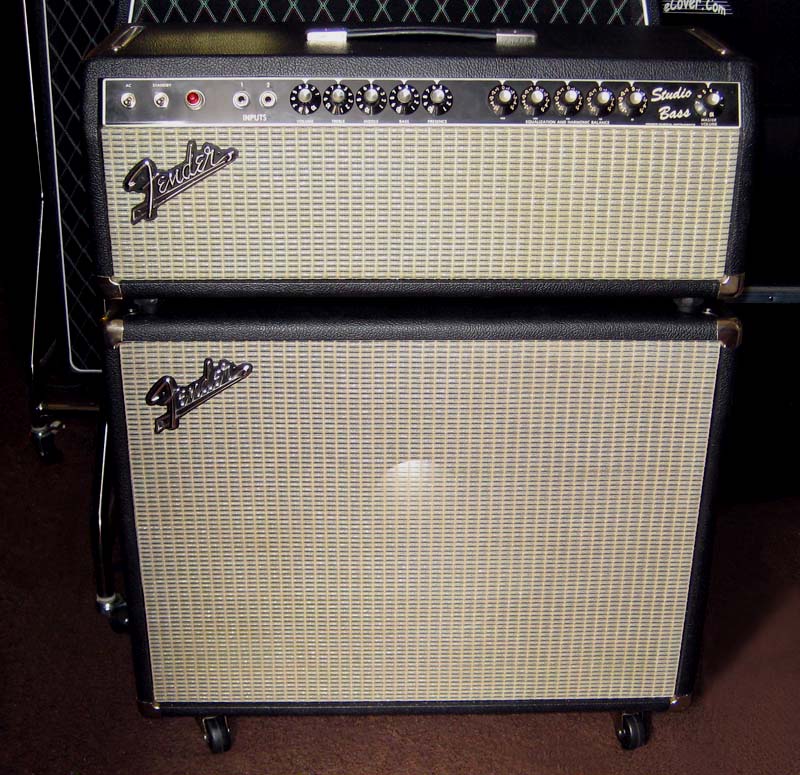 Fender "Studio Bass" Amplifier

Besides a 1962 Blonde Showman amp, this just may be the nicest bass amp that Fender has ever produced. With more than twice the power of a Showman (200 watts RMS), and 100% tube circuitry, hand wired point to point, and five band equalization the short-lived Fender Studio Bass amp is one of their most rare and little known amps. They were originally offered as a combo with a single 15" Electrovoice Speaker (Fender EV15F) which was basically an EV 15L with an aluminum dust cap. They sounded great that way but were a bit cumbersome to transport as the sealed  and ported cabinet was fairly large and the chassis itself weighed a ton due to its large power and output transformers. They also fell over alot as they were very "top heavy". I have had three of these amps over the years and after not having one around since 1999, and really missing owning and playing thru one, I decided to try to find a clean one that would be a good candidate to convert to a head/cabinet configuration. I always considered these as " 2/3rd's of an  SVT" since they have alot of the same SVT growl in the midrange, but with alot more low end than any other Fender. I was fortunate enough to find this super nice one, and since its cabinet was already modified and thrashed, to save on shipping, I asked the seller to ship me everything but the actual cabinet.

I purchased an empty head cabinet from Mojo Musical Supply, which is built to the same specs as an original Fender (i.e. finger-jointed pine with a 1/4" plywood back panel), and the chassis was a perfect fit.

Below are a couple of pics of the chassis. They originally came with 6L6GC output tubes, but in order to maximize its power and headroom, I installed six NOS Philips 7581A's and biased them to pull 50ma output at idle each. I also installed three new JJ ECC083's 1(2AX7's) a NOS Philips 12AU7 (for the EQ) and a Philips NOS 12AT7 for the phase inverter. The amp now sounds better and louder than any of the previous ones that I've owned.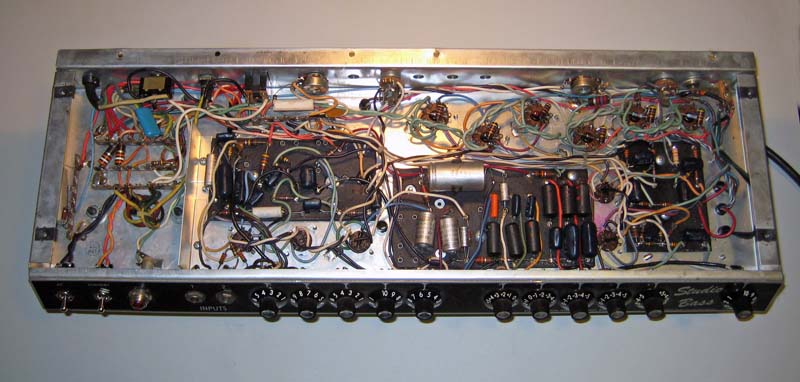 For the speaker cabinet, I had Mojo custom build a speaker cabinet to my specifications. It is 26" wide, to match the head) and 20" tall, with a sealed back. I cut a 3 1/2" hole in the baffle for a port and cut a piece of 3" ID PVC pipe 4" long and epoxied it in the 3 1/2" hole. Then, instead of using the factory EV, I installed a mint JBL E140 (since I'm a JBL freak!), and then installed fiberglass insulation to minimize the cabinet's resonance.   The speaker is wired to a 1/4" switchcraft jack on the back of the cabinet.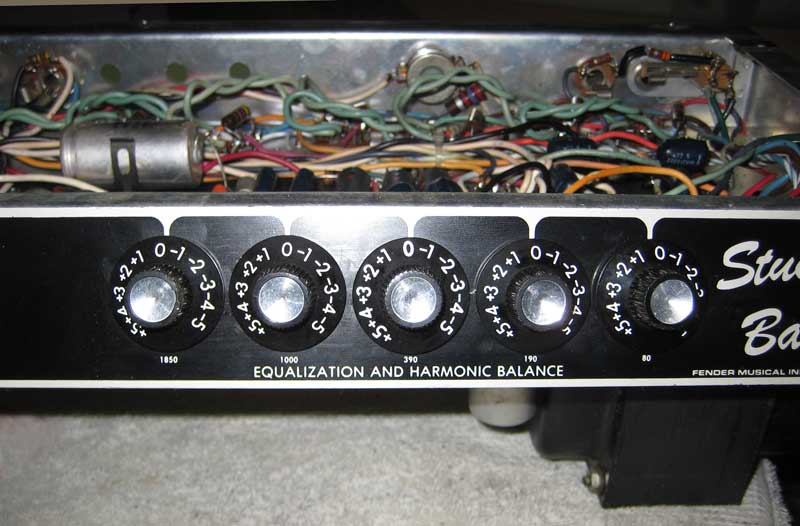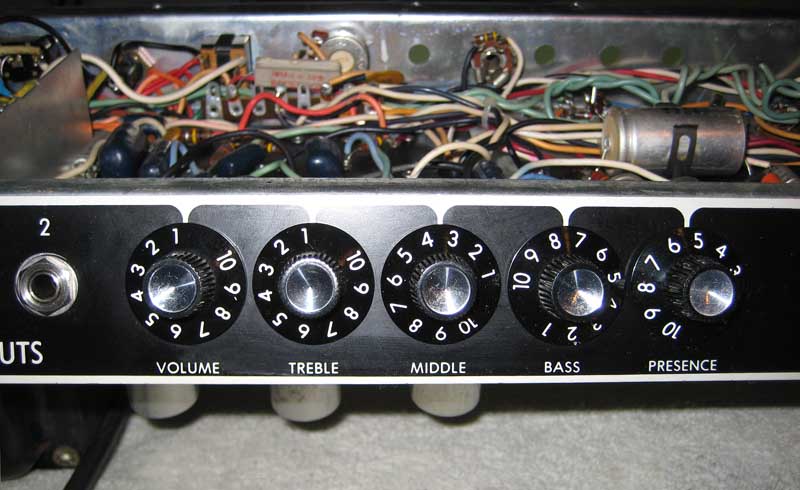 Here's a photo of the input and "standard" Fender tone controls

And here's a shot of its five band rotary "graphic" equalizer. This is where you can really make the amp sound just about anyway that you want it to.

Here you can also see the Fender "pop-out" casters installed to make it easier to move around

The final result is a beauty of an amp that fender never really offered in this configuration, but to me is far more practical and will fit into any car for gigging. With its 200 watts RMS output of tube power and the efficiency of a JBL, this amp's size can really fool you. It packs quite a punch and can be easily be used anywhere from the recording studio to mid and mid to large sized gigs without breaking a sweat.

(Note: I made a specail dye from vintage amber and brown tints and dyed the grill cloth to give it more a vintage fender look)

Here she is in all her glory!

If you need a copy (or just want to see) the schematic for this amp, just click on the schematic thumbnail below and it will open full size: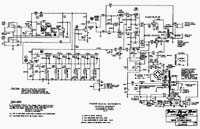 Thanks for taking the time to visit this page about one of Fender's most obscure bass amps!

-johnk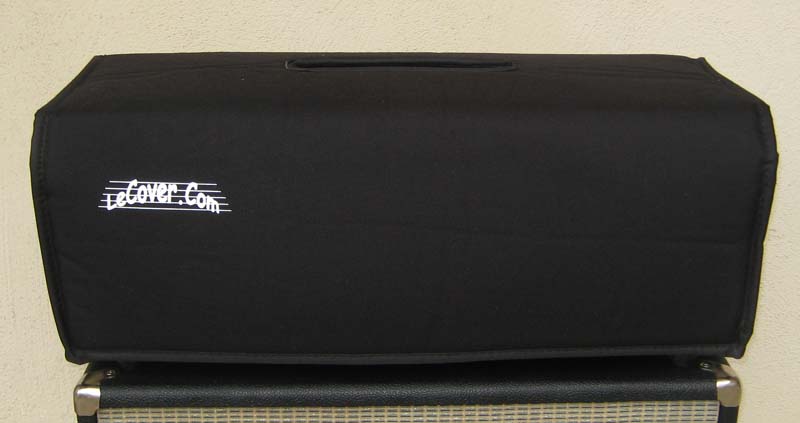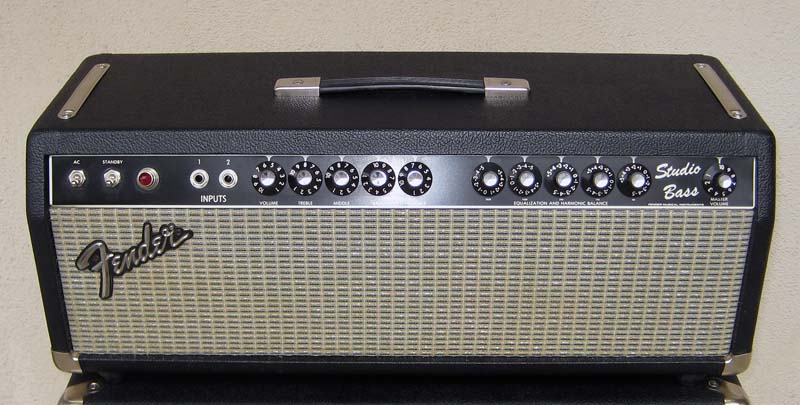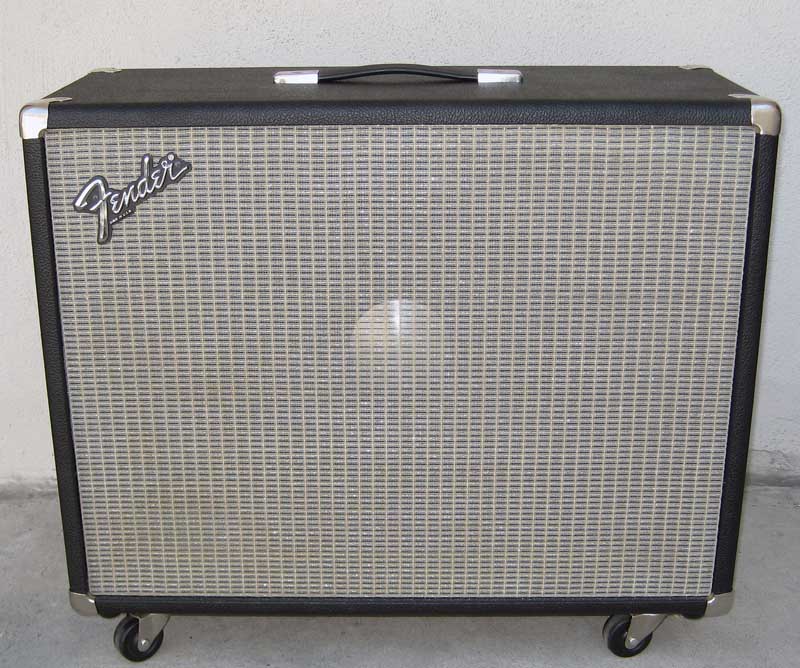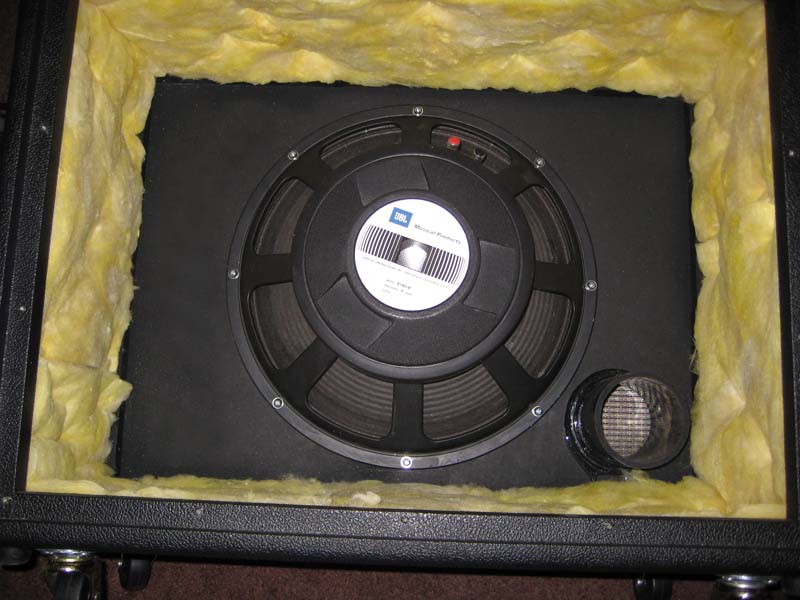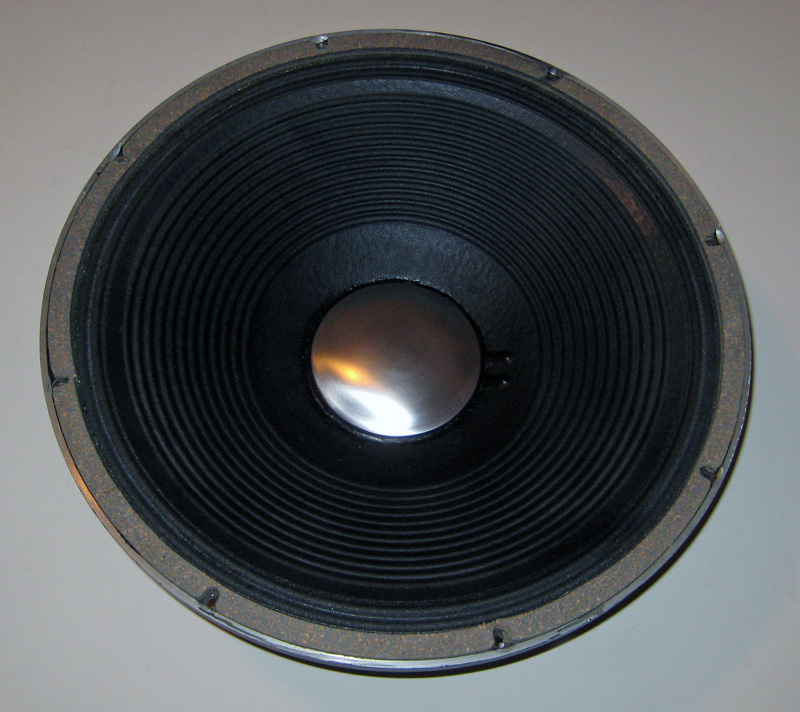 Here's a pic of the mint JBL E140 that I installed in the cabinet:

I had Larry from LeCover.com custom make me a 1/2" padded cover for the head to help to maintain its pristine condition.