Sound City Bass 150 Amplifier (circa 1974)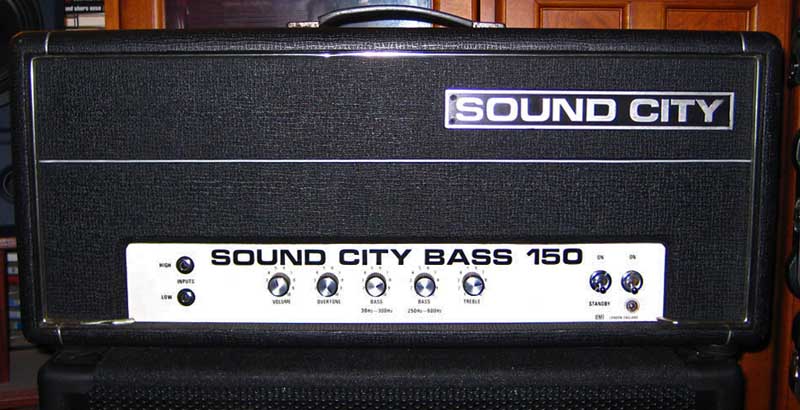 Here's some pictures and info on a great sounding vintage tube bass head that can still be purchased for well below what they are worth if you are lucky enough to find one. I bought this one about 8 months ago for $900 and it is in pristine condition. These heads are often overlooked but I can assure you that they sound as good as any bass head ever made. The quality of construction is easily on par with a "plexi" Marshall. While the component layout is not quite as "hospital" neat as a HiWatt 200, it still is very well built, and will last many years if retubed and biased. It is a completely hand built point-to-point circuit with a bias control for each pair of output tubes. They were made by Dallas Arbiter in London England, the same company that made the legendary "Fuzz Face".

When I received this amp, the previous owner had changed the main filter caps with higher than stock values, so I immediately replaced them with their original values, to bring back its original tone (and smoothness). This amp uses four 6550/KT88 output tubes, so I bought a matched quad of Valve Art KT100's (same as a KT88) and installed and biased them. For the preamp, I installed two vintage (60's) NOS Mullard 12AX7's and one NOS Mullard 12AT7 for the phase inverter. With the KT100's running at 550 volts, this amp is easily as loud as any 200 watt tube amp.

I never thought that I would say this, but I am really a big fan of the Valve Art KT100's. They are actually a Shuguang (Chinese) tube, but their build quality and sound is as good or better than any of the other "reissue" tubes available today and put out more power and bass than my old NOS GE 6550's. They have no rattles or microphonics and are extremely smooth from the ultra low bass to the transparent highs. English amps were always conservative on their power ratings, and although it is called a 150 (watts), it is easily as loud as any 200 watt tube head, and louder than all the 500-600 watt solid state or hybrid heads, with more headroom. The front panel features high and low inputs, Volume, "Overtone" control, Bass ( 30-300hz), Bass (250-600hz) and Treble, as well as the standby and power switches.

Below are some pictures of the chassis:








Here's a pic of its massive power and output transformers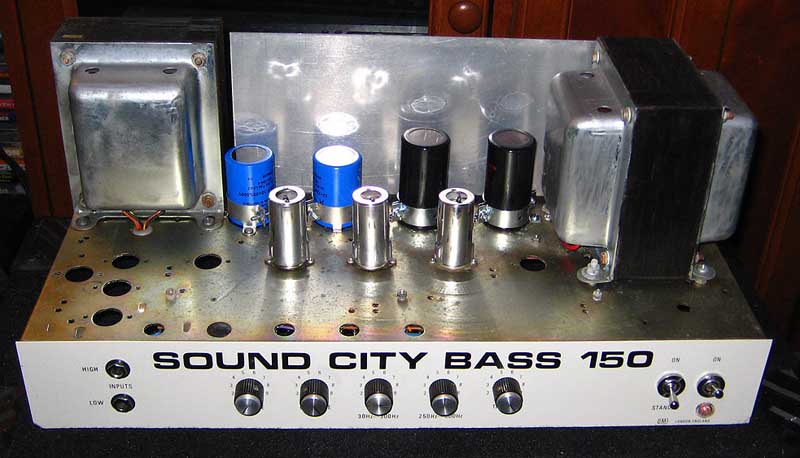 Picture below is of the point-to-point circuit for the hand wired components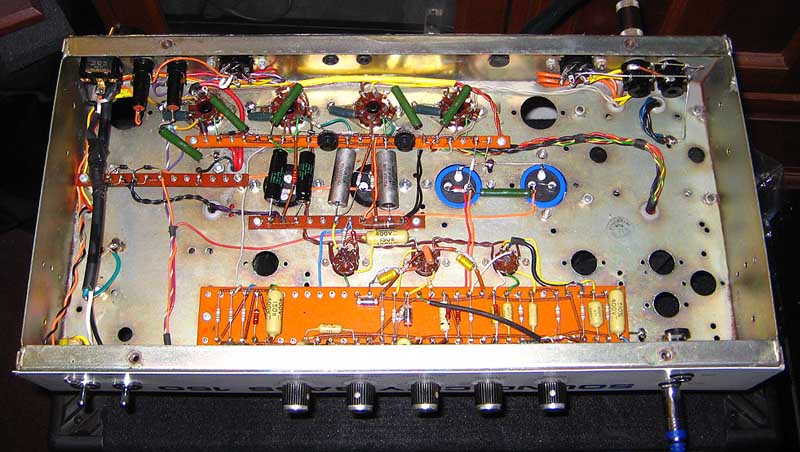 The four output tubes: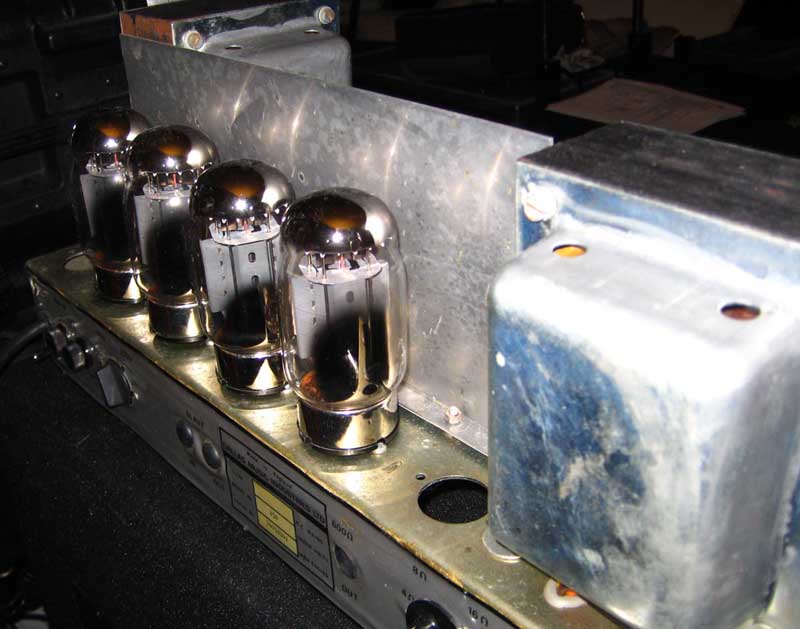 The rear panel: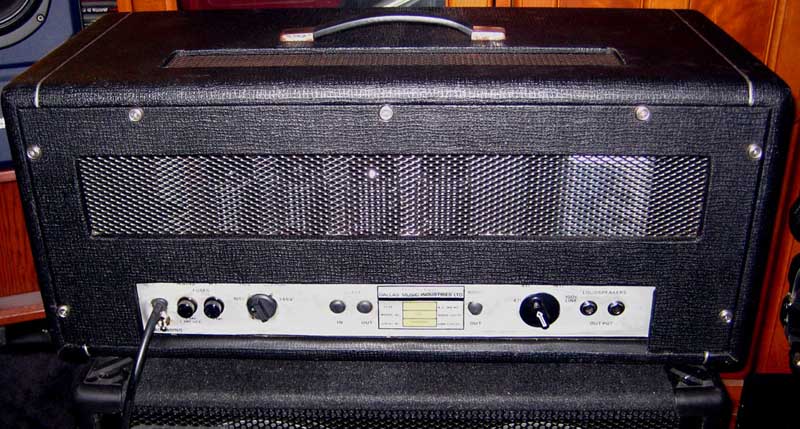 The back panel's features (from left to right) a ground switch, high tension fuse (B+), the mains fuse,  voltage selector,  impedance selector (4, 8 & 16 ohms) and two 1/4" speaker outputs.

I remember seeing these when they were new and what struck me as really cool were the multi-colored knobs on some of them, and although this model didn't come with them (the pic at the  top of this page shows its original black knobs), I couldn't resist finding a multi-colored set for it as well.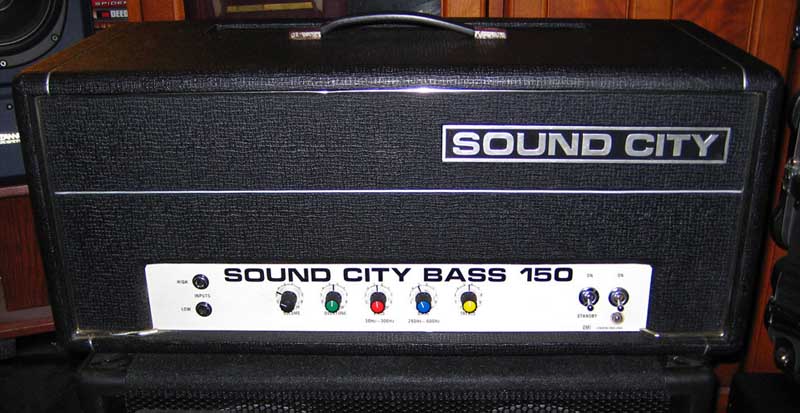 This head will drive any cabinet and sound awesome. I have used it with four 15" JBL K140's, four 10" Eminence DeltaLite's, two twelve Eminence DeltaLite 2512's, and two JBL K120's and with every cabinet it is warm and smooth, yet very punchy and it has now become one of my favorite bass heads of all time. If these were built with the same high quality components and method and offered today as a "boutique" amp, it would easily run more than $3,000.00. Unfortunately, they just don't build them like the used to, but luckily, if you look around and are patient,  there are still a few of these that can be found for $1,000.00 or less.

Thanks for reading my SoundCity Bass 150 page. If you'd like to see the schematic click here:
Bass 150 Schematic
-johnk