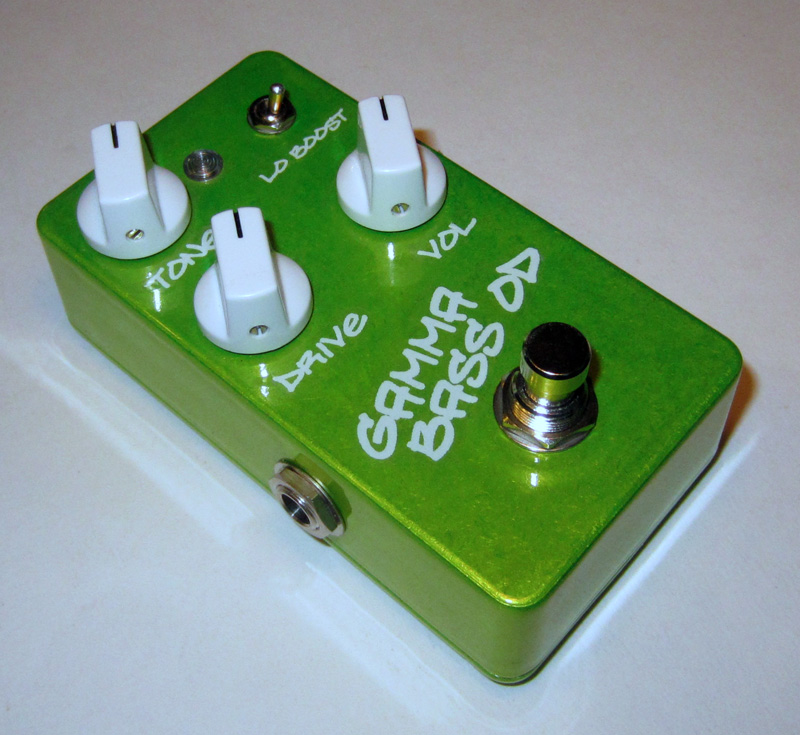 After building more than 300 different pedals and clones for myself, I came up with this one of my own after alot of circuit experimentation as to what I personally prefer in a bass overdrive. This pedal uses three 2n5088 (BJT) transistors and two BS170 Mosfets to achieve a smooth transparent driven tone that can go from nearly clean, to moderately heavy saturated overdive. It's a very smooth sounding pedal and is not harsh, fizzy or gated like some of the pedals out there. It's also very touch responsive, and its tone control can go from bright, to transparent, to dark sounding. It already had alot of low end (with no low end loss), but since it was designed specifically for bass, I also added a 'Lo Boost' switch for those that want a MASSIVE low end (just be careful with your speakers when in this mode!!!). The Gamma Bass Overdrive, or GBOD name was derived form the Gamma Ray translucent Green enclosure that I chose for it. This pedal can maintain your original tone without imposing alot of color of its own and is extremely dynamic.

I am going to make a very limited run of 20 of these pedals since I'm not really into the effects pedal business, but thought that I'd offer a few for those that are looking for something different that isn't offered on the market by any other manufacturer. All of the first 15 were built on veroboard, but the very last  5 had  etched circuitboards.

To hear what it sounds like, below is a quick sound clip that I made of it, with a '59 P bass, fingerstyle playing, running thru my  2x15 cab (Eminence 3015's) recorded with a Zoom H4n.

Click on pics for a larger image


The prototype and GBOD #'s 3 thru 6 (which have been shipped)