NOS PHILIPS 7581A OUTPUT TUBES- matched pairs and quads!

Very RARE perfectly matched pairs and quads of NOS PHILIPS 7581A tubes. These long out of production tubes are considered to be the best high output 6L6 type of tube in existence. These tubes are brand new and have never been used. They come in their original plain white military bulk boxes and are factory matched, however I also tested them on my Maxi-Matcher tube tester to make sure that the factory matching was accurate, and it is. I bought these in 1985 and only have a few matched pairs and matched quads left so after these are gone, I will not be getting anymore of them. They have dual halo getters and since they are new old stock, the flashing is bright, shiny and perfect.

In my opinion (as well as many other people's too), these are the finest 6L6GC STR type to use in Fender Bass (or guitar) amps, or any other amp that uses a 6L6 including Hi-Fi tube amplifiers. Highly desirable and great sounding tubes in Bassmans, Supers, Pros, Bandmasters and Twins. They are also the tubes that made the original Boogie Amps a "Boogie". They handle higher plate voltages and are rated at 35 watts each. Their sound is full with a warm bass, a very smooth midrange and transparent highs, and will last many years longer than any other 6L6. Put these in a 50 or 100 Fender Bassman, or an Ampeg Flip top and your bass will have noticeably more headroom and power!  The boxes are dated 5/85 making them 23 years old.

Here's what one website that I found on the web had to say about them:

"JAN Philips 7581A (6L6GC)

This is the mil spec version of the Philips 6L6GC. These are world class tubes, bottom line. It has double mica spacers but otherwise looks and sounds identical to the famous Sylvania 6L6GC STR. The Sylvania 6L6GC STR is the tube that Fender requested to be made specifically for hanging upside down in guitar amps. These are also the tubes that came in original Boogies. The tone is very up front and clean. They do distort nice though. Think SRV type tone when they do distort. They retain the high end bite. This tube sounds very nice in blackface and silverface amps, particularly Twin Reverbs. It's considered among the best 6L6 type ever made. This tube comes in a white box with military stock numbers on it.

This page was last updated: May 1, 2011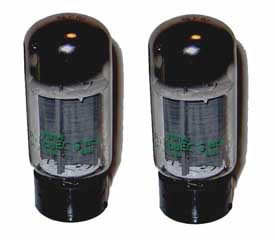 $189.99- matched PAIR

Out of stock!

No Longer Available

$379.99- matched QUAD

Out of stock!

No Longer Available