'64 Fender Jazz Bass- Custom Built

Here's a Fender Jazz Bass that I just finished building today (9-15-09). It is 100% Fender. Both the body and neck are CIJ candy apple red Jazz Bass reissues that were never used. I bought the two pieces seperately as I like to 'cherry pick' all of the bodies and necks that I use ( the bodies have to be light-weight,  solid alder, and the necks have to be straight with the proper profile). I lacquered the front of the headstock to match the body as Fender did in 1964. The rest of the parts that I used are new genuine Fender American Vintage reissue parts. This bass is very light for a Jazz Bass weighing in at just over 9lbs. The neck measures 1 1/2" at the nut, has the small vintage frets and has a 7.25" fingerboard radius. It has very low action with no buzzing and its tone is exactly what you would expect from a vintage Jazz Bass.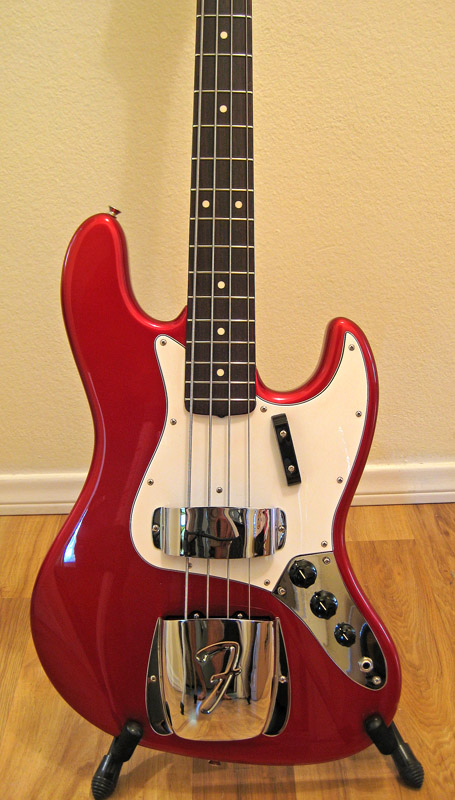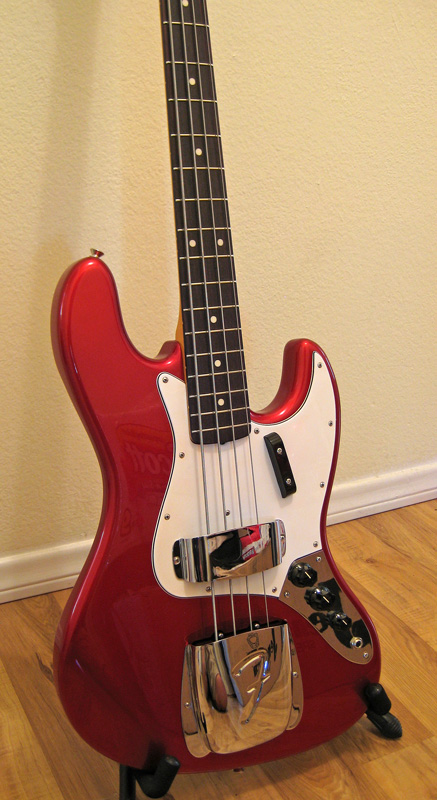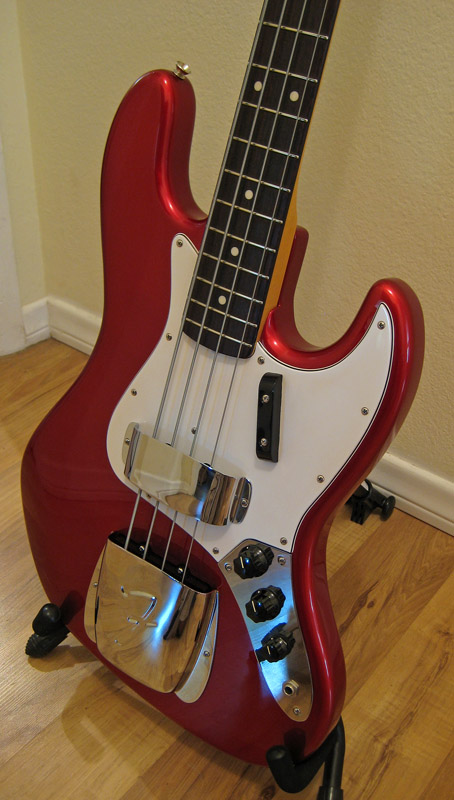 Building info: The pickguard on this bass is a USA fender '62 reissue that I tinted slightly to give it more of a vintage look. I make a special dye to do acheive this and then buff it out to bring back the shine. I also smooth the edges to give the appearance of the original celluloid pickguards. The pickups are USA Fender American Vintage '62 Jazz Bass Pickups with the brass shields. The potentiometers are also genuine Fender (CTS) 250K solid shaft pots with USA Fender Jazz Bass knobs (bakelite with  4-40 set screws) wired to a Switchcraft jack. I even used an NOS Cornell-Dubilier .047 capactior that I purchased from Fender's surplus stock when they moved from Fullerton, CA, to give this bass the exact tone of a pre-CBS Fender. With original candy apple red '64 Jazz Basses selling for $12,000-$15,000, this is a bass that not only is affordable, but is also one that you can actually take to the gig. This bass will be packed very well, and shipped in a new Fender Standard Bass gig bag.

The Fender basses that are 'crafted in Japan' are very nice, however they do not use the same machine heads as the american vintage Fenders do, so I redrilled the headstock to fit the larger USA vintage reissue ferrules and installed a new set of Fender AV reissue, reverse tuning, nickel plated heads.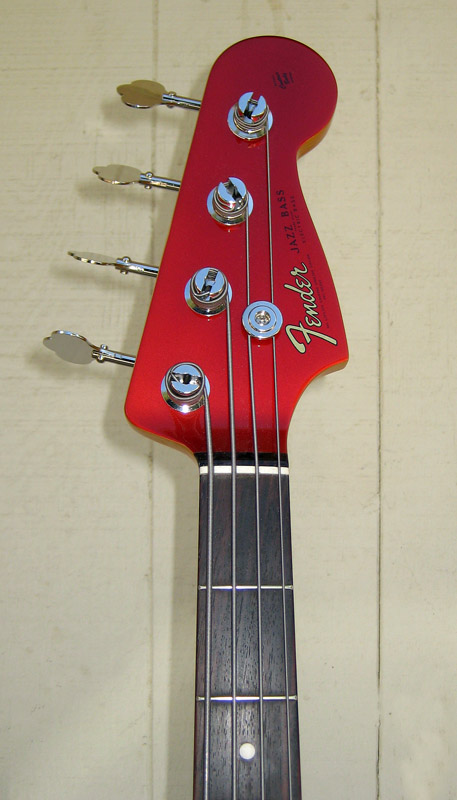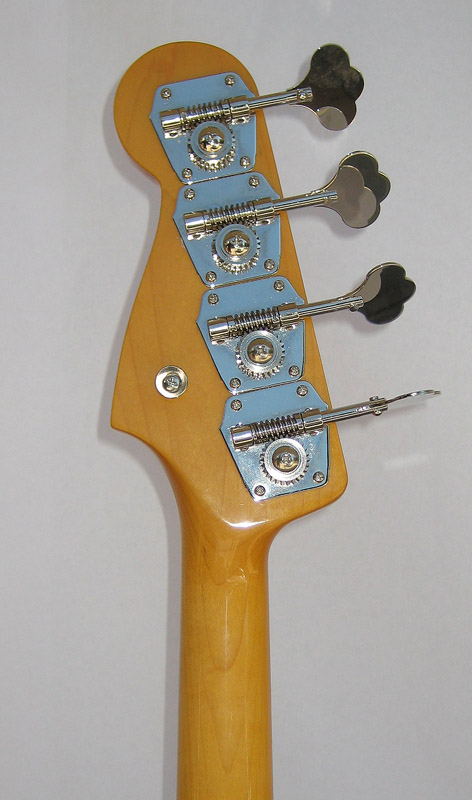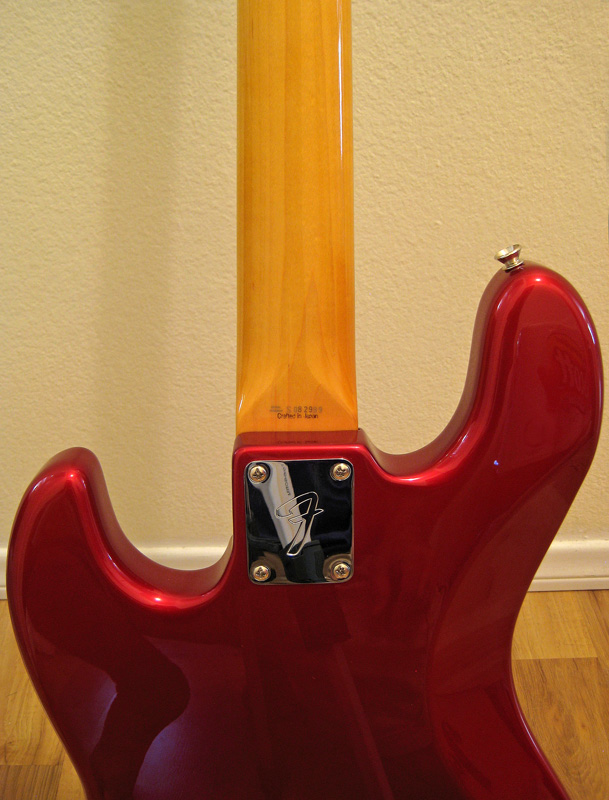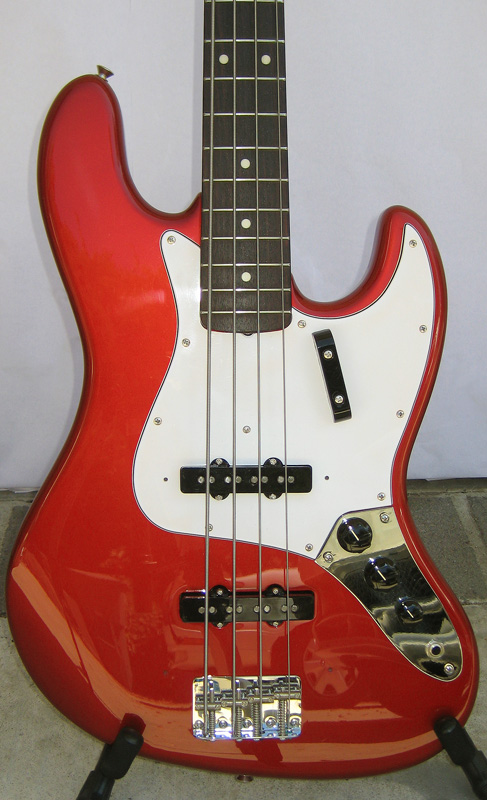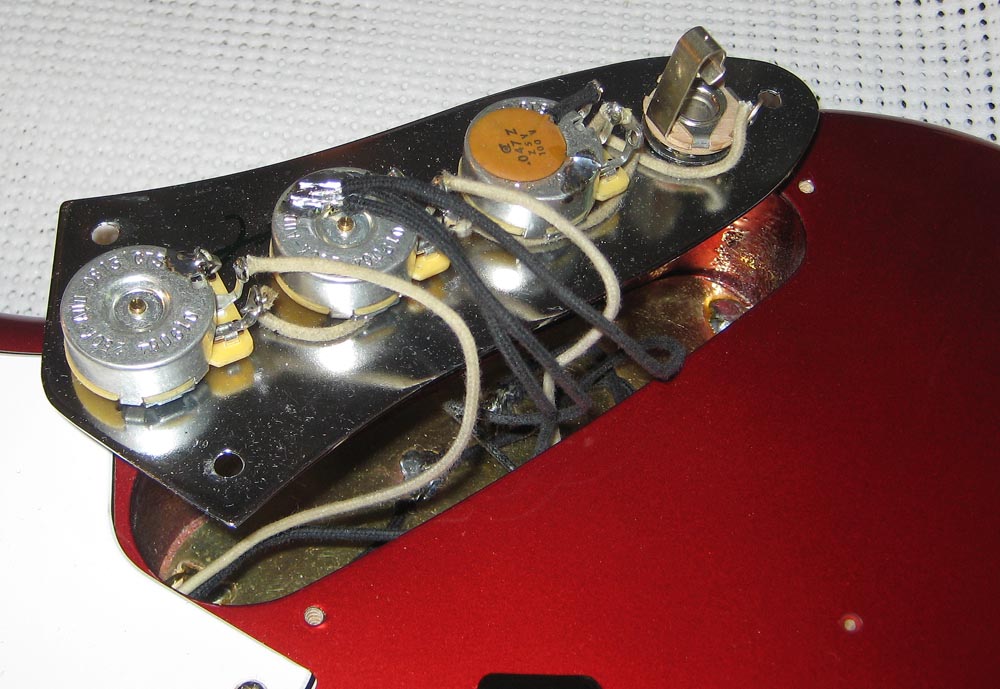 Picture below showing the bass without the pickup and bridge covers. USA American vintage reissue bridge, thumbrest, pickups, pickguard, control plate and knobs:

Picture showing Fender USA neck plate and mounting screws as well as the serial number showing that the neck is a genuine Fender made in 2008:

Picture showing USA Fender pots and Switchcraft jack wired with cloth wire and vintage original .047 capacitor.

$1299.00

with FREE shipping in the  ContUSA